Data from our partners at FloodFlash suggests that British businesses are under serious threat. Are they aware of the threat though? Confidence levels are high, with 75% of businesses surveyed claiming they are fully aware of the risk at their property.
It's encouraging to see that businesses are engaging with their risk levels (only 3% were not aware). Our data suggests that there is a discrepancy between the perceived and actual risk amongst British businesses though. The chart below shows how: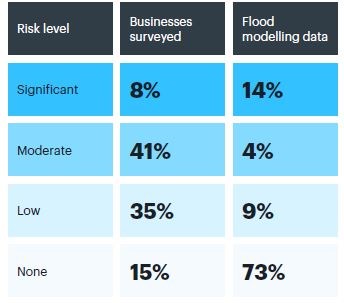 The difference between the perceived and actual risk is interesting. At the moderate and low risk levels, businesses characterise their risk very conservatively with 41% claiming they are at moderate risk when in reality only 4% are. At significant risk levels, the tables turn with more businesses at risk than identify with that level of risk.
This observation requires more research and will no doubt be the focus of subsequent reports. Initial reasoning suggests there are various possible causes for the mismatch. At higher levels of risk, businesses may be unwilling to face the facts - a cognitive bias known as the ostrich effect. At lower levels, businesses may be more conservative (particularly when filling out a survey with insurance questions).
We anticipate the biggest driving factor for the discrepancy to be an incomplete understanding of what "moderate" and "low" risk means. Closing that knowledge gap amongst business decision makers is hugely important if we stand to make any headway in closing the protection gap.
The impact of recent floods on UK businesses
FloodFlash asked businesses that had been subject to recent flooding what were the main costs they incurred. Businesses need to consider what they need to recover when thinking about mitigation measures. Over 50% of businesses that flooded recently needed extensive clean-up and/or stock replacement. Over a quarter (26%) needed support for prolonged business interruption - something often excluded in insurance policies.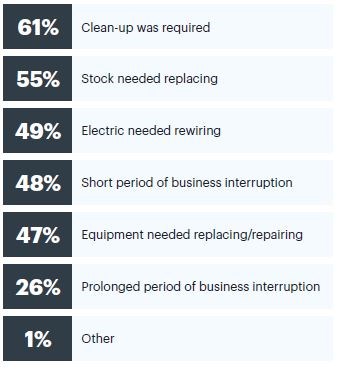 What businesses are doing to prepare for flooding
FloodFlash asked "what are businesses doing to prepare for flooding?". Most of the businesses they spoke to have some form of preparation in place. Only 8% claimed to have no measures to mitigate flooding. Businesses also agree that they are open to technology if correctly applied – with 80% of respondents agreeing that they would use technology-based insurance if it made the product better.
British commercial attitudes to flood insurance
FloodFlash asked business owners whether they agreed with the following statement: "It's difficult to get affordable flood cover for my business property". Here's what they said.

Despite the difficulties outlined above, just 13% of the businesses surveyed said that they didn't have comprehensive flood insurance. That suggests they, and their brokers, are working very hard to cover any exposures they may have.
Flood threatens our business continuity
When asked if they agree with this statement: I worry about flooding as a potential threat to my business continuity, here's what they had to say.

Whilst business continuity is clearly an issue when it comes to flood, unfortunately cover levels aren't in line with the perceived need. Only 42% of the businesses surveyed claimed to have business interruption insurance. With pressures from the COVID-19 business interruption cases, this specific cover may become even harder to obtain in the coming years.
Only 42% of the businesses surveyed claimed to have business interruption insurance. More than 1 in 4 of those who have flooded in the past 10 years experienced a prolonged period of business interruption.
Read the FloodFlash 2022 Commercial Risk Report to find out more.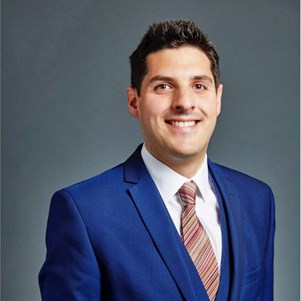 About the author
Mark Brannon Cert CII is a respected industry leader with over 17 years' industry experience in a variety of roles within the business insurance sector. He works across a wide spectrum of insurance product and policy development, delivery and optimisation for clients, including claims, insurer relationships, marketing and communications, and risk management.
 Read more business insurance articles
For more information or for a full review of your insurance needs, please see our insurance specialisms, contact your usual Towergate Insurance Brokers adviser or email TIB@towergate.co.uk.