As an island, with many coastal and riverside regions, the UK is naturally prone to flooding. The increased frequency of extreme weather events, urban development, and pressure of climate change, have made flooding happen more often and with worse consequences. In this article, we will look at some of the worst affected areas, those most at risk and some of the worst recent floods (including flash flooding) in recent UK history.
Throughout the years, the UK has seen innumerable water-related disasters, causing deaths, injury, and billions of pounds in property damage. Did you know that:
One in every six properties in the UK is at risk of flooding?
Statistically, your home is far more likely to be flooded than burgled?*
Approximately 23 million homes in the UK have no form of home insurance?
Those that do, generally have better cover for other perils, such as fire and theft?
On this list, between 12% and 37% of commercial buildings lie within flood zones?
26% of commercial properties are at risk of flooding, compared to 14% of all properties in the UK?
*https://www.morganclark.co.uk/about-us/blog/uk-flood-statistics-facts-about-flooding/
 We'll now look at some of the worst affected flood risk areas in the UK.
COASTAL Flood RISK LOCATIONS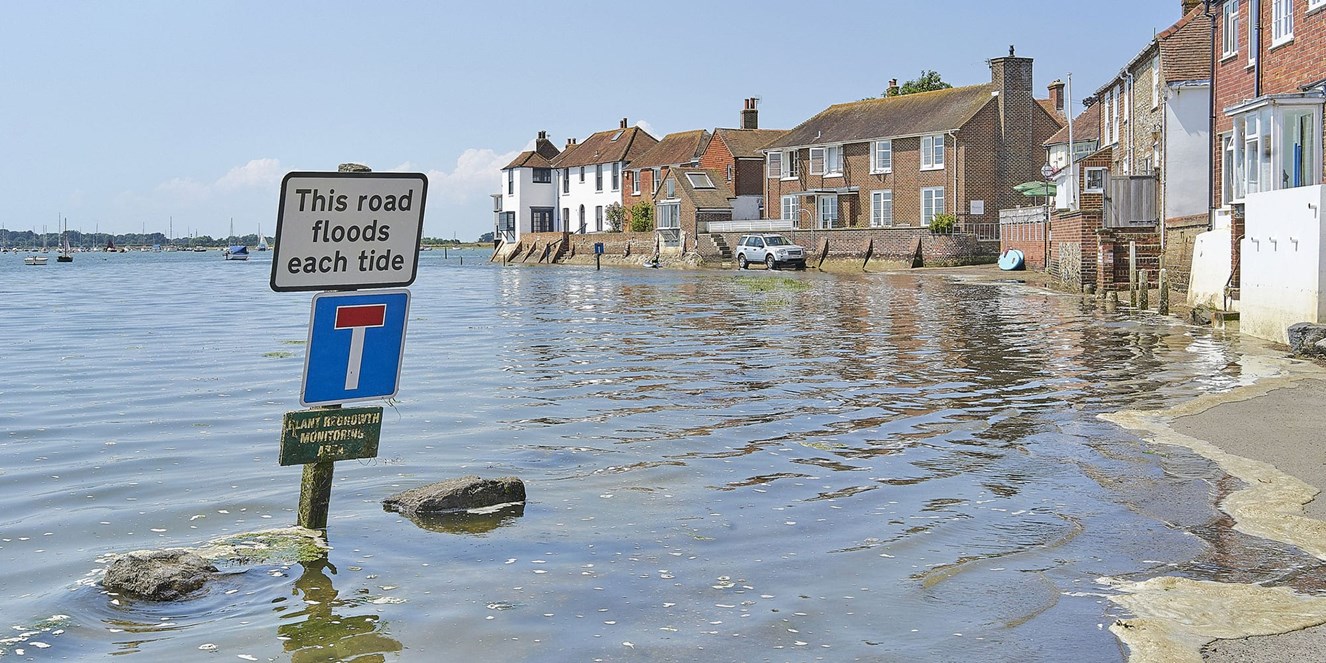 1. CORNWALL
Cornwall has a long history of flooding due to its geography, propensity for severe coastal storms, and the significant amount of rainfall it receives (even during its driest months). Sadly, this is getting far more frequent and even worse, due to the effects of climate change. In addition to this, at least 12% of Cornwall's commercial buildings are located in a 200-year flood zone. It is one of the few English counties with no motorways. However, trunk road access to and from the rest of the UK is at the heart of Cornwall's transport infrastructure and it is now possible to drive on uninterrupted dual carriageway from Glasgow to Bodmin Moor. 
One of the first recorded floods, back in 1817, destroyed Polperro harbour and Looe. More recently, in 1958 and 1976, people died in Boscastle and Polperro respectively, after the villages were hit by flash flooding. Near the end of 2000, major motorways were swamped, resulting in road closures and vehicles being abandoned. In 2009, two shops in Truro were destroyed, after 0.3 m of water rushed into their premises. Both the railway station and part of the Royal Cornwall Hospital were forced to close, after torrential rain caused their roofs to cave in. Perhaps, most notably, over 400 properties were destroyed in Cornwall in 2010, including the famous St Austell Market.
2. EAST COAST REGIONS (Hull and Great Yarmouth)
Many of the east coast regions in the UK are also prone to flooding, particularly areas such as Hull and Great Yarmouth. This is mainly due to storm surges caused by strong winds pushing the North Sea waters towards the coast. Hull is especially vulnerable as it is located on the banks of the Humber Estuary, with much of it exposed to volatile tidal swells.
Hull has seen a number of floods throughout the years, dating as far back as 1571. It experienced tidal flooding in 1953 and again in 1969 which affected much of the city centre. The Flood of 2007 devastated the area, resulting in damage to over 9,000 homes and business properties. Sadly, a shocking 95 of its 98 schools were affected by water damage. Great Yarmouth too fell victim to the Great Flood of 1953, and more recently in 2013 which recorded the highest ever tide in town. Luckily, flood defence walls are set for refurbishment, upgrading the level of protection to more than 4,500 homes and businesses in the area.
3. SUSSEX AND KENT
Potential water-related disasters in Sussex and Kent are especially likely, as they suffer from both coastal and fluvial flooding, as well as significant amounts of rainfall. Perhaps the worst flood in Sussex history took place in 1994, when the River Lavant burst its banks after a torrential downpour. Barnham and Yapton were cut off by road and 49 residents had to be rescued from their homes by boat. Some of the worst disasters in Kent history were the Great Flood of 1953, as well as the Floods of 2000 and 2001, where many of the county's streets were turned into rivers.
Approximately 20% of all commercial buildings in Sussex and Kent are in its flood zones. However, much of the region is now better protected from flooding. This is due to a 'managed realignment' project, whereby some areas have been surrendered back to the sea, in order to save others. Over £2.6 billion has been spent since 2015 to protect more than 50,000 homes in Kent, East Sussex, and parts of South London.
RIVERSIDE FLOODING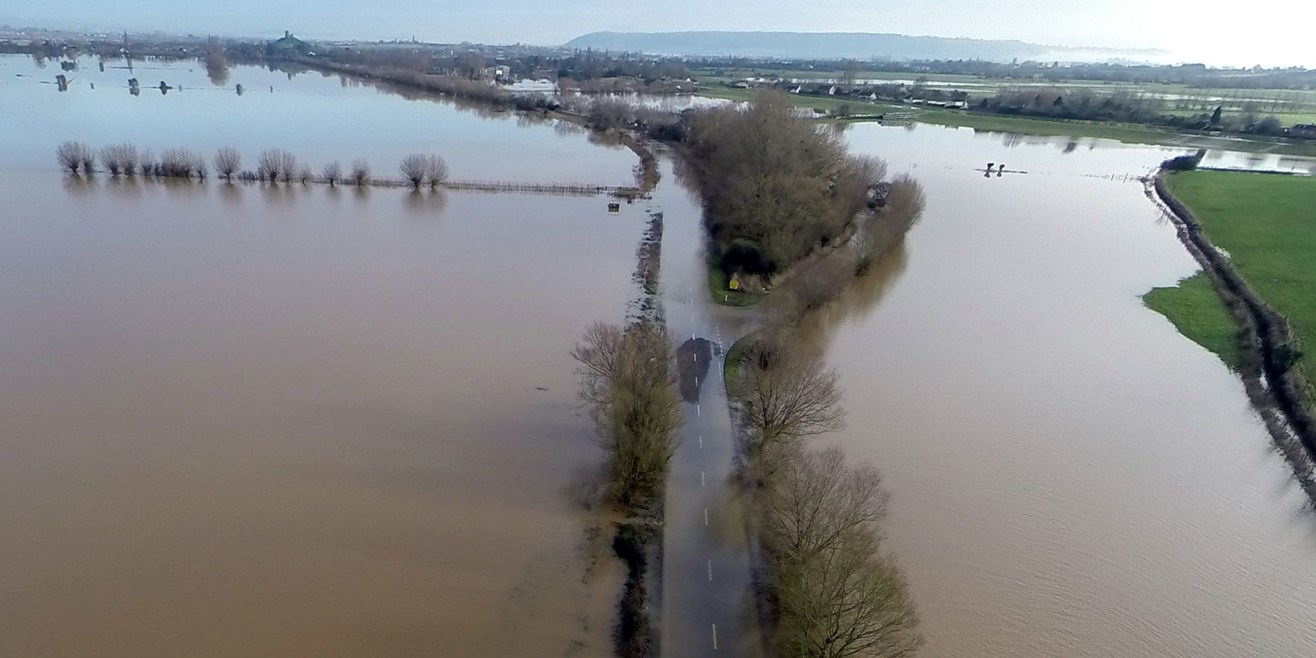 1. SOMERSET
With the majority of the Somerset region sitting below sea level, it is prone to both tidal and land-based flooding. High tides cause water to accumulate along the river, spill out onto its banks and into the low-lying surrounding areas. 22% of Somerset's commercial buildings lie within a 200-year flood zone.
The Somerset Levels and Moors have experienced multiple floods throughout the years. This includes the Great Storm of 1703, where waves crashed 1.2m over the sea walls and into the river. The sea walls were breached again in 1799 and 1872. Then, in 1919, an area spanning 283 km, was overwhelmed by both sea and river water, infamously poisoning the land for over seven years. Since the 1990s, the Environment Agency has made plans to prevent regular winter flooding, including installing giant pumps in the rivers in 2014.
2. ESSEX
While Essex is among the driest of counties in the UK (in terms of rainfall), its geography places certain parts of it at great risk of flooding - in particular, Hockley, Canvey, Rayleigh, and Burnham-on-Crouch. Storm surges, caused by strong winds, push the North Sea towards the coast, filling up the region's rivers, fleets, creeks, estuaries, and pools. Essex has a number of major waterways, including River Blackwater, River Colne, River Crouch and River Roach.
This landscape has resulted in many floods throughout the years. However, the most infamous of these occurred back in 1953 (the Great Flood of 1953). The worst hit communities were Canvey Island and Jaywick. Thousands of homes, businesses and infrastructure were damaged, estimated at a cost of £5 billion in today's currency. Sadly, 120 people also died in the region, as a result of the disaster. Today, 14% of all Essex's commercial buildings are in its 200-year flood zone.
3. NORFOLK
Further North, Norfolk is greatly exposed to the winds and tidal swells of the North Sea. It is surrounded by multiple bodies of water, including the River Great Ouse, River Burn, River Glaven, and the River Yare (which runs into the River Wensum). It's over 3000km's of riverfront and bay side, are particularly vulnerable as it is a low-lying region. It is also susceptible to periods of heavy rains, 'nor'easters', and even mild hurricanes.
Norfolk has a long history of flash flooding, with one of its worse occurring back in 1912. It brought Norwich to a standstill when the River Wensum rose by over 5m. At least 50 bridges around the county were wrecked and the city was completed cut off by rail and road. Four lives were lost, and 15,000 people had their property either damaged or destroyed completely. Norfolk was also severely affected by the Great Flood of 1953, as well as floods in 1978 and, more recently, in 2014 and 2020.
floodplains and surface water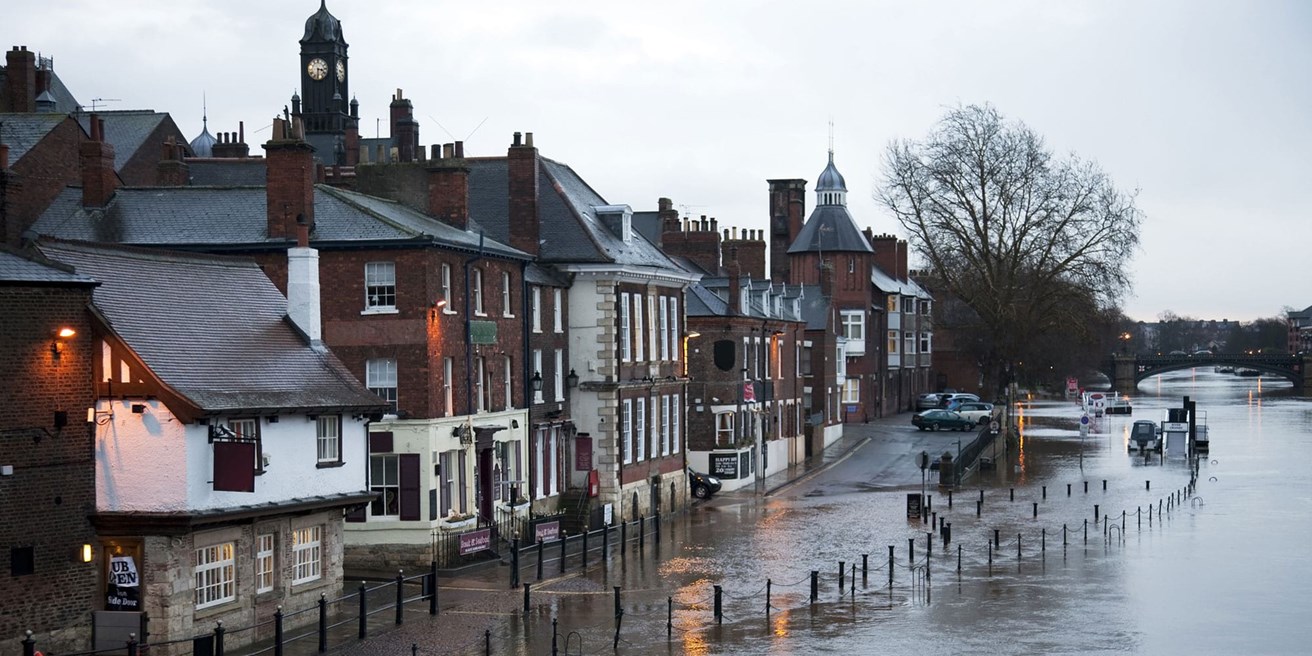 1. Cumbria
Located on the north west coast of the UK, Cumbria is exposed to the warmer air of the mid-Atlantic. The warmer the air, the more moisture the clouds produce and hold. This, coupled with its mountainous landscape, give the area an enormous amount of rainfall. In fact, Cumbria (and its Lake District) is the wettest region in the whole of England.
While Cumbria gets a lot of rain, its valleys tend to drain quite quickly through its well-established river courses. However, when flooding does occur, it can be catastrophic. This happened in 2009 and again in 2015, the worst floods in more than 550 years. The latter was caused by Storm Desmond, which resulted in so much surface water that the floodplains could not drain fast enough. While more than 50,000 properties were severely damaged or destroyed, thankfully, only one person lost their life. With 18% of Cumbria's commercial buildings lying within flood zones, many of these were essential businesses and service providers.
2. Lincolnshire
A staggering six communities across Lincolnshire have been named among the UK's most likely places to flood. These include, Lincoln, Gainsborough, Woodhall Spa, Boston, Holbeach and Skegness. Most of the region lies 5m below sea level, with many of its rivers, like the River Glen and The Welland, actually sitting above the land. Even in its driest months, Lincolnshire experiences a lot of rain. This quickly fills up its rivers which can easily overflow onto its low-lying floodplain.
By 1763, over 50 windmills in the Deepings region alone kept the river waters at bay. However, they were not enough to stop the Louth Flood in 1920 which resulted in 23 deaths, and again in 1947. Lincolnshire too was swept up in the Great Flood of 1953, with 43 people losing their lives. Approximately, 200,000 acres of farmland was devastated, along with extensive damage to homes and business premises. Lincolnshire has flooded multiple other times over the past few decades, including in 2007 where 400 homes were evacuated, and 120 people had to be rescued by boat.
3. YORKSHIRE
Also exposed to the North Seas, Yorkshire has many rivers, waterways, and low-lying moors. Its drainage basin covers most of the Vale of York and the Yorkshire Dales. Flooding typically occurs due to heavy rainfall further upstream, in the catchment of the Ouse Humber estuary. When the floodplains are overwhelmed with surface water, the consequences can be devastating. In the East Riding region of Yorkshire alone, a whopping 37% of commercial buildings are located within a 200-year flood zone.
The Yorkshire Dales have experienced major flooding incidents throughout history, most notably in 1870,1890, 1899 and 1986. The Flood of 1890 infamously swept away the bridge over the Swale at Gunnerside. Records show that the River Swale has had a staggering 145 flash floods between 1700 and 2013. Most recently, the area saw large amounts of rainfall in 2019. The flooding that followed, wrecked bridges and roadways, and caused landslides on major railway lines, bringing its communities to a standstill. A staggering 90% of homes in the Fishlake region saw severe water damage or were completely destroyed.
FLASH FLOODING EXPLAINED
Flash flooding is the rapid flooding of low-lying areas, usually occurring within 3-6 hours. It is associated with heavy rainfall from severe thunderstorms, hurricanes, and meltwater.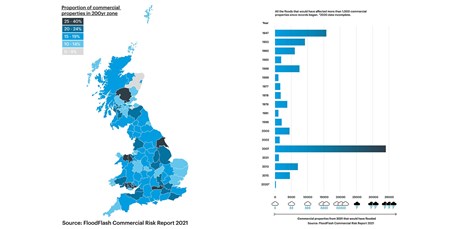 It often affects floodplains, washes, dry lakes, and depressions in the land, where surface water builds up quickly and cannot drain fast enough. It then overflows into its surrounding areas, farmlands, roads, high streets and beyond. Due to its speed, most property damage (particularly to businesses) is incurred by this type of flooding.
According to the FloodFlash Commercial Risk Report 2021, 26% of commercial properties are at risk of flooding, compared to 14% of all properties in the UK. Many businesses are located in the various high risk flood zones, especially in Yorkshire and the Humber. Furthermore, the highest ever recorded number of commercial properties were damaged in the Flood of 2007, which significantly impacted the East Coast region and Lincolnshire, in particular.
RECENT FLOODS IN THE UK
With the effects of climate change, flooding in general has become a lot more frequent, and often with much worse consequences. In 2019, there was severe winter flooding in multiple regions across the UK. This included Yorkshire and the Humber, the East Midlands rivers (River Derwent and Derbyshire and River Trent and Nottinghamshire) and Lincolnshire. Birmingham, Shropshire, Herefordshire, Worcestershire and the River Avon and Warwickshire in the West Midlands were also greatly affected.
In early 2020, a second wave of flooding was caused by Storms Ciara and Dennis. An average of 170mm of rain resulted in the wettest February documented since records began (in 1766). Areas worst affected included, the East Midlands, London and South East England, South West England, Wales, the West Midlands, Yorkshire and the Humber.
GET A FLOOD INSURANCE QUOTE
While most flooding incidents cannot be prevented, taking out flood insurance will at least soften the blow when it comes to the inevitable property damage to your home or business premises. Towergate Insurance Brokers offers both Flood Excess and FloodFlash cover options.
FLOOD EXCESS INSURANCE
Households and businesses located in high-risk flood areas often carry higher excesses. For some households, the excess can be as high as £15,000 and for businesses it can be even higher. Flood Excess Insurance is an insurance policy available to homeowners, landlords or businesses, that has been designed to offer policyholders the ability to insure the excess (or deductible) up to £100,000. In addition, they are now able to offer cover where a co-insurance clause has been applied by the underlying insurer. For example:
Client A has a £250K Flood Excess. The policy would cover the first £100,000.
Client B has a £100K Flood Excess but does not wish to pay the full premium for £100,000 and is happy to self-fund £50,000 of the excess. In this instance Flood Excess would cover the first £50,000 and the client responsible from £50,001 - £100,000.
Client C has £25,000 Flood Excess cover purchased. Risk has a £25,000 excess / 20% co-insurance. The maximum paid would be £25,000.
For more information please call 0345 241 0950 or visit the Flood Excess Insurance website.
FloodFlash Parametric Flood Insurance
FloodFlash offer a rapid-pay-out flood cover, through an alternative model, known as parametric insurance. In essence, it is a contract that insures customers against the occurrence of a specific event by paying them out based on the severity of the event itself. FloodFlash is extremely flexible, and the payment can be used in any way you like. This may be to repair the premises, rent an alternative location, replace stock, fill in an excess, top up your limits, or as a bolt-on if your main insurance excludes flood cover – you choose.
FloodFlash policies are reserved specifically for businesses. This includes businesses trading from home and landlords or property owners (where the property is owned through a company). Policies are available anywhere in the UK, excluding Northern Ireland. Even if you have had previous flood incidents or claims, FloodFlash provides quotes in almost all cases, regardless of flood history. 
Payouts that clients receive upon a claim begin at £5,000, while the maximum limit of the policy is £5 million. However, higher limits can be purchased on referral. For more information please call 0345 241 0950 or visit the FloodFlash website.
About the author

Mark Brannon Cert CII is a respected industry leader with over 17 years' industry experience in a variety of roles within the business insurance sector. He works across a wide spectrum of insurance product and policy development, delivery and optimisation for clients, including claims, insurer relationships, marketing and communications, and risk management.
Read more Floodlink sources